DJ Zinc - Switch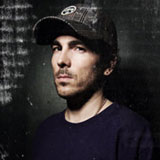 DJ Zinc has been a staple of the UK Jungle and Drum'n'Bass scene since the early nineties, DJing first on pirate radio stations and making his name at London club night Desire.
He started making his own music in 1992 with DJ Swift who he met through Pirate Impact FM. Their collaborations developed into the eight volume 'Swift and Zinc' series on Bizzy B's Progression label. In 1994, Zinc went solo with 'Super Sharp Shooter', a tune which has been largely regarded as a cornerstone of the Jungle scene. '6 Million Ways' soon followed as did his DJing, playing out every weekend at pioneering Jungle/ Drum n Bass club nights; Elevation, Desire, One Nation, World Dance, United Dance and Slammin' Vinyl. His sets took him across the world too taking in the sights of Japan, America, Canada, Brazil, Taiwan, Australia, New Zealand as well as every country in Europe.
True Playaz
Zinc's name was further disseminated to the masses with his bootleg mix of The Fugees' 'Ready Or Not' hit in 1996. Following this Zinc formed the True Playaz label with Pascal and DJ Hype. The following year True Playaz started their own club night at London's 'The End'. Since 2000 the night has been based in 'super club' Fabric where it is currently the club's most successful night to date.
'It's hard work but I wouldn't change anything I do - its all good' Zinc
Labels & Beats
Zinc released '138 Trek' on True Playaz in 2000 which was originally intended as a down tempo bonus track on an EP. However, the attention he gained from this release, after it reached number 25 in the UK chart, encouraged him to continue working with different tempos, and saw him set up his own label Bingo Beats to release non drum & bass music by himself and other artists.
The British Urban sound has evolved since the nineties and DJ Zinc has not only watched this evolution, he has embraced it too. Now moving into album artist realm, Zinc's highly anticipated debut LP will be released on P Records (Polydor).