Eddy Temple - Switch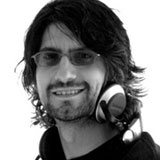 What were you up to before Xfm?
"The entertainment industry is run, almost entirely, by ex-bass players, so no surprise that's what I did for years, in numerous bands signed by major labels and indie sweatshops alike. Then I thought I should get a proper job, so I followed the usual route of work experience here and there, ending up with BBC Hereford & Worcester taking me on. Then I answered an ad in the paper to get a dream job at Radio , ending up as senior Presentation Producer.
What was the first record you bought?
"The first record that I paid for was 'Rattus Norvegicus' by The Stranglers."
What was the first gig you went to?
"Stiff Little Fingers in the Malvern Winter Gardens in Worcestershire. And I was only 3 and it was the first time I got gobbed on, the first time I had a pint in a pub, the first time I saw a fight where there was, like, blood spattering the walls of this pub. Gloucester skins and Hereford skins. Mixed bizness."
What advice would you give to someone who wants to do what you do?
"Loads of people ask me this and - if you want to be a presenter - the best advice I can give, and it's a good 'un: don't try to be anyone else. If you rate Johnny Vaughan or if you rate me - God forbid - or if you rate whoever you rate, don't have them in your head when you're doing your screen test or you're doing your thing, whatever it is you do. For God's sake, just be you. If you are who you are then people will find that irresistible."